Microsoft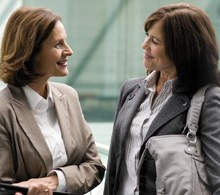 Programs & Initiatives in Romania
Initiative to support gender diversity
Digigirlz
We at Microsoft are working from now to build for our future talent. Digigirlz is one of our globally that aims to attract teenagers to learn and use information technology and to encourage young girls to embrace a career in this field. With this programme we work to dispel female stereotypes of the high-tech industry.
During the event high-school students interact with Microsoft employees and managers to gain exposure to careers in business, technology and to get an inside look at what it's like to work at Microsoft. We started Digigirlz initiative in Romania in December 2010, having our first event in Timisoara and it is coordinated by Adina Bigas, Human Resources Manager GTSC.
Women in Technology Initiative (WIT)
"Women in Technology" (WIT) that supports the community of ladies working in IT&C industry in different countries. The initiative aims to bring together women embracing a career in IT companies under the umbrella of "Change Lives with Technology". In Romania "Women In Technology" develops its activity in order to motivate and involve women working in technology in social and professional activities at the national level.
We know that women can work and can be successful in IT and we believe in the complementarity between women and men in this area apparently "banned". The initiative is a Microsoft worldwide program that was initiated and coordinated in Romania by Loredana Panait, Marketing Audience Manager.
Women Leaders Conference: Leadership @ Feminine
Because we believe in the positive changes that women bring in decision making processes, in managing people, in driving corporations, as well as in impacting social life in general we encourage women to discover their strengths, their paths as well as their own definition of success in life, career and leadership style.
Therefore on May 23rd 2011, Microsoft organizes the first Women Leaders Conference, event that celebrates a very contemporary and international subject: Leadership @ Feminine. The event is addressed to the wonderful ladies that impact the organizations they lead or that strongly influence the field they work in; women on leadership and management positions from diverse industries, sectors, and occupations. The initiative is under the Opening Windows Program and the Romanian event is coordinated by Adina Bigas, Human Resources Manager GTSC.
Initiative to support youth programs
- Internship Program Global Technical Support Center
- University Graduation Diploma
Initiative to support different needs and backgrounds
- work life balance: work from home + flexible working arrangements
- international food day (global village)
- getting to know Bucharest